This website contains affiliate links.
They help to support the site and keep my content free.
I have personally used and recommend everything linked and all opinions are my own.
**************************************
This is my most sought after recipe!
Once you try it, you'll see why!
This recipe makes 40 nuggets or 6 patties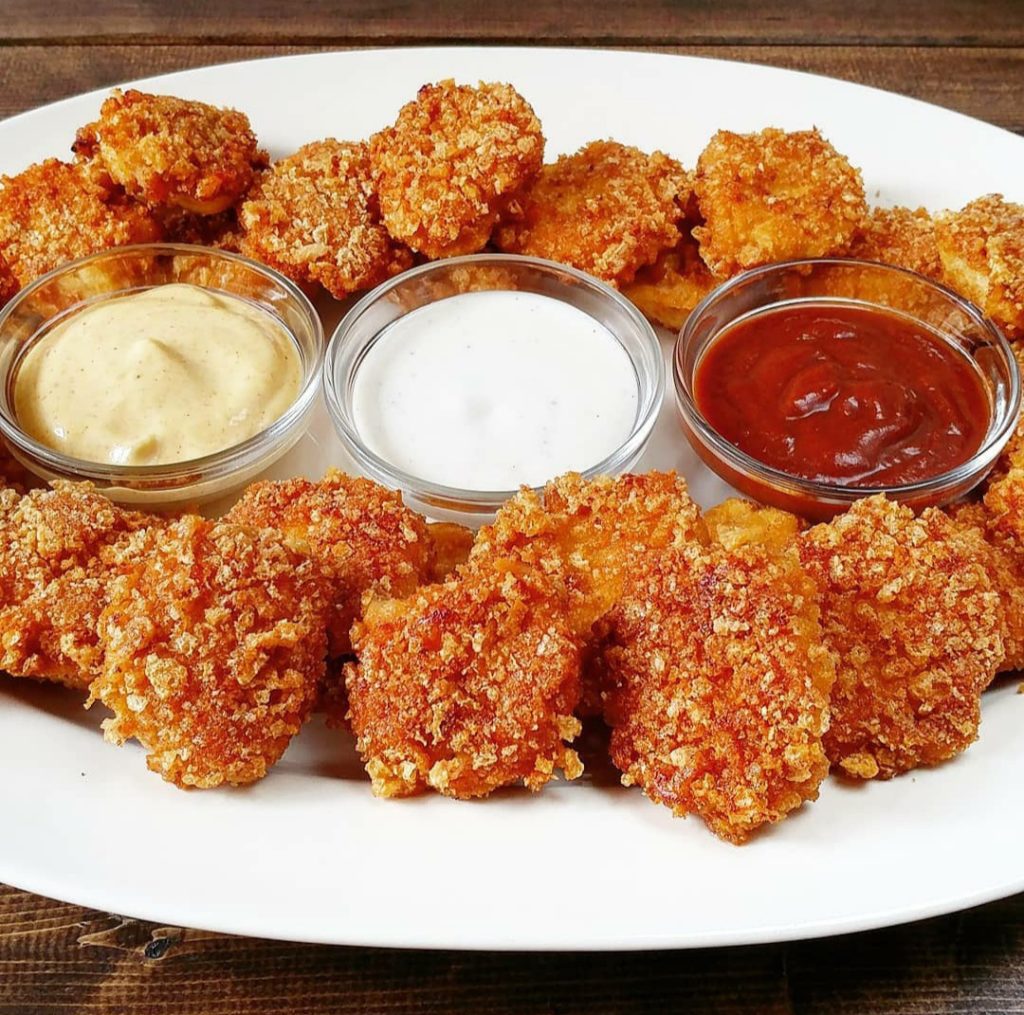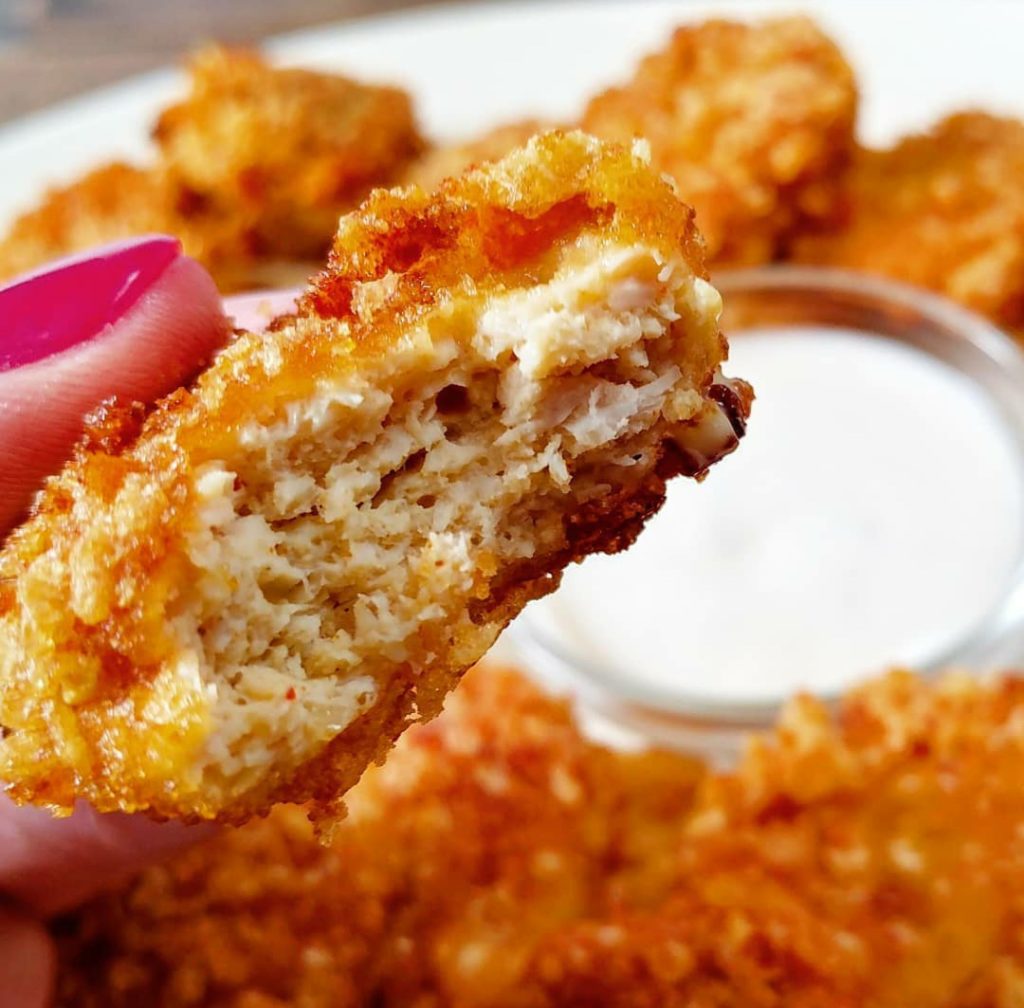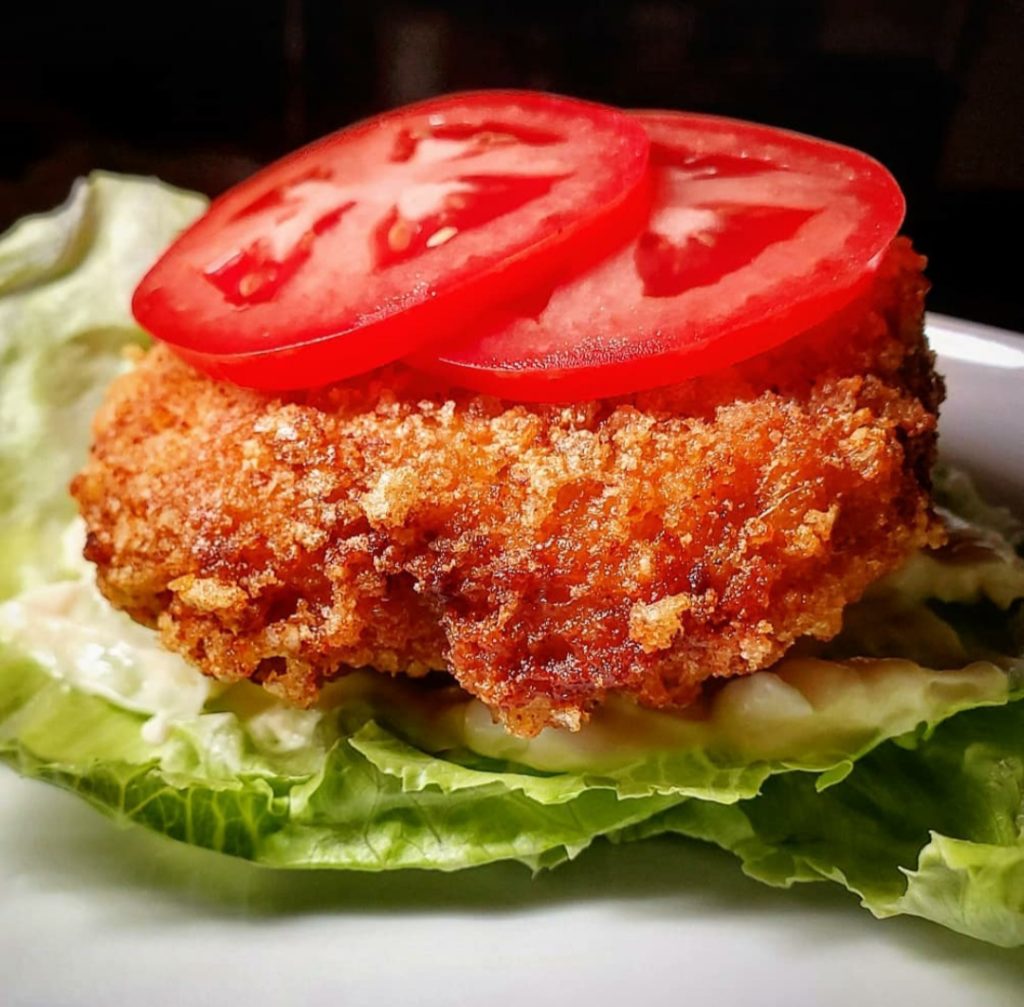 * Spicy Chicken Nuggets / Patties *
For the chicken mixture:
1.5 lbs boneless/skinless chicken breasts or thighs, raw  *see note below
1 tsp salt
1/2 tsp paprika
1/2 tsp white pepper
1 tsp garlic powder
1 tbl yellow or dijon mustard
1/2 tsp chili paste (omit if you don't want spicy)
1 egg
For the breading:
75g of pork rinds (I prefer the Kroger brand for the crispiest breading)
pinch of salt
spice if desired (I use this)
Start by crushing pork rinds in food processor with salt and spice into a fine crumb.
Set aside.
Cut chicken into small to medium sized chunks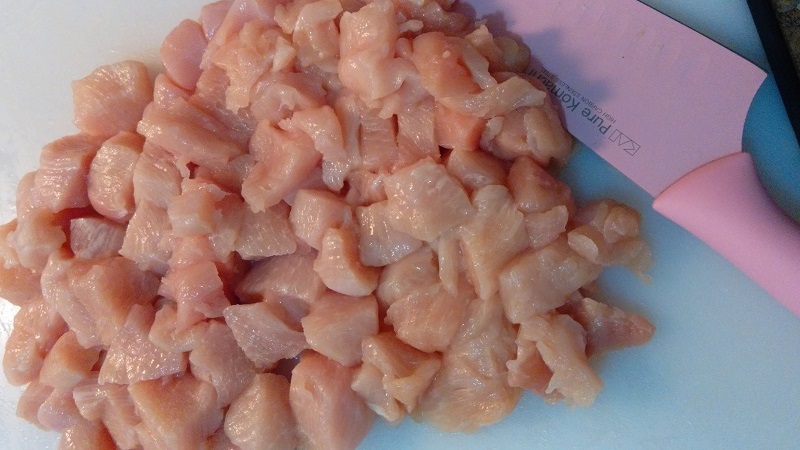 Add chunked chicken to food processor (I use a ninja blender) along with egg, mustard, paprika, garlic, white pepper, salt and spice if desired. Pulse until it's combined then process until pulls away from the sides. (similar to dough)
* Ground chicken/turkey may be used as a shortcut if you prefer not to use whole chicken pieces. I personally prefer to use whole chicken as the texture is true to a nugget instead of a 'burger' texture. I've also found that ground chicken tends to release more moisture during cooking as it contains fattier pieces and scraps which results in a less crispy breading
Put mixture into fridge for 30 min to make handling easier – this step is important!
For Nuggets:
Use a small cookie scoop to ball out the mixture. (I used my 1 TBL measuring spoon.)
Dip spoon/scoop in a bowl of water every few scoops to keep from sticking.
For Patties (my preference):
Wet hands and patty out the mixture using hands or a larger cookie scoop.
For Breading & Cooking:
Drop a nugget ball onto the pork rind crumbs and gently push down then flip and push down and set aside. This will make the perfect nugget shape.
Do the same for the patties except roll the sides in the crumbs after flipping.
Shallow fry on medium/medium high heat until browned on both sides, about 2 min per side for nuggets and 4 min per side for patties.
Remove to paper towel to drain and eat!!
These can also be baked in an oven or airfryed at 400 degrees for 25-30 minutes, flipping halfway thru cook time.
– MEAL PREP –
These chicken nuggets and patties are FANTASTIC to prep in large batches to freeze for later use!
Simply cook and cool, then place patties/nuggets on a large cookie tray in a single layer and place in the freezer for 1 hour then stack into a gallon sized freezer bag and seal. You can reheat in an oven or airfryer at 400 degrees for about 20 minutes, flipping halfway thru cook time. You can also freeze after breading and before cooking but breading will not be near as crispy as it would be if cooked before freezing.
– VARIATIONS –
Play around with the seasonings inside the chicken mixture as well as adding various spices to the pork rind breading like Italian seasoning!
One of my favorite additions is to top a patty with sauteed ham slices and swiss cheese then broil until cheese is melted for Chicken Patty Cordon Bleu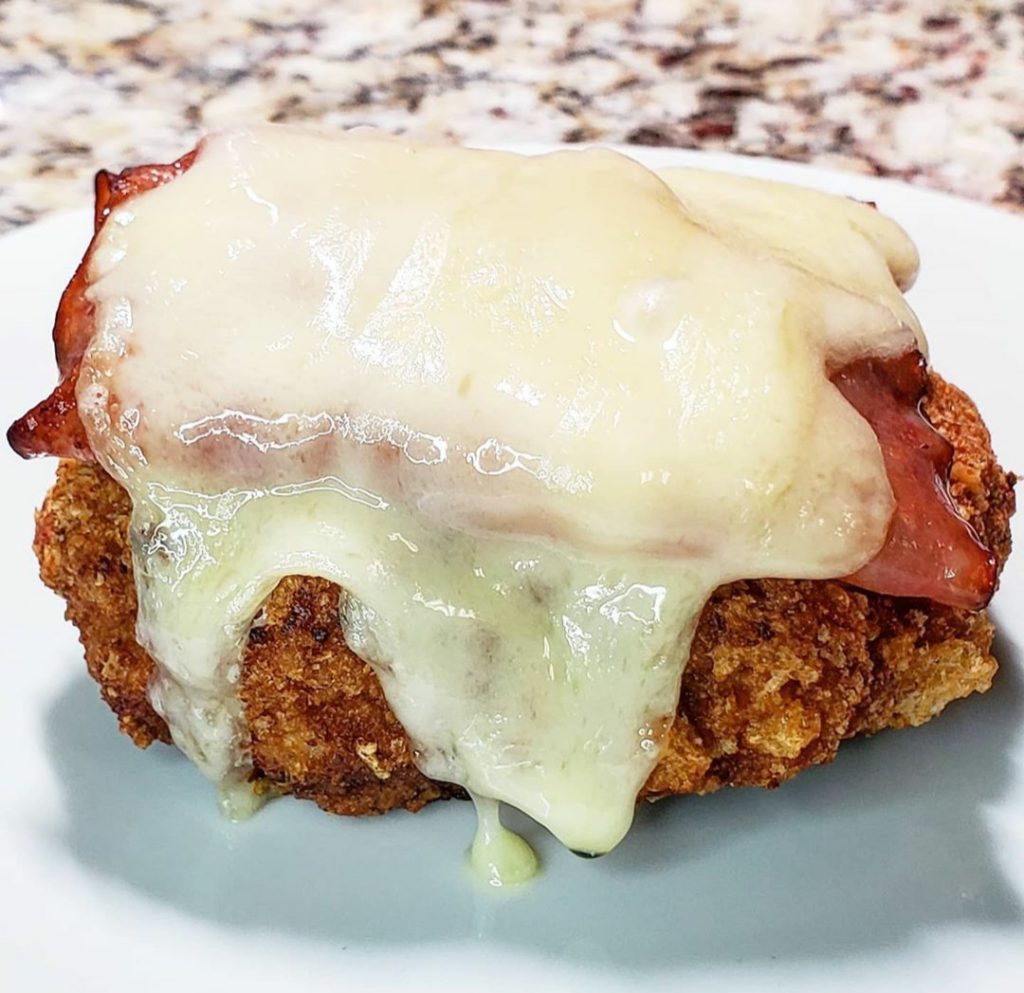 I also love to top them with pizza sauce and provolone/mozzarella then broil til bubbly for Chicken Patty Parmesan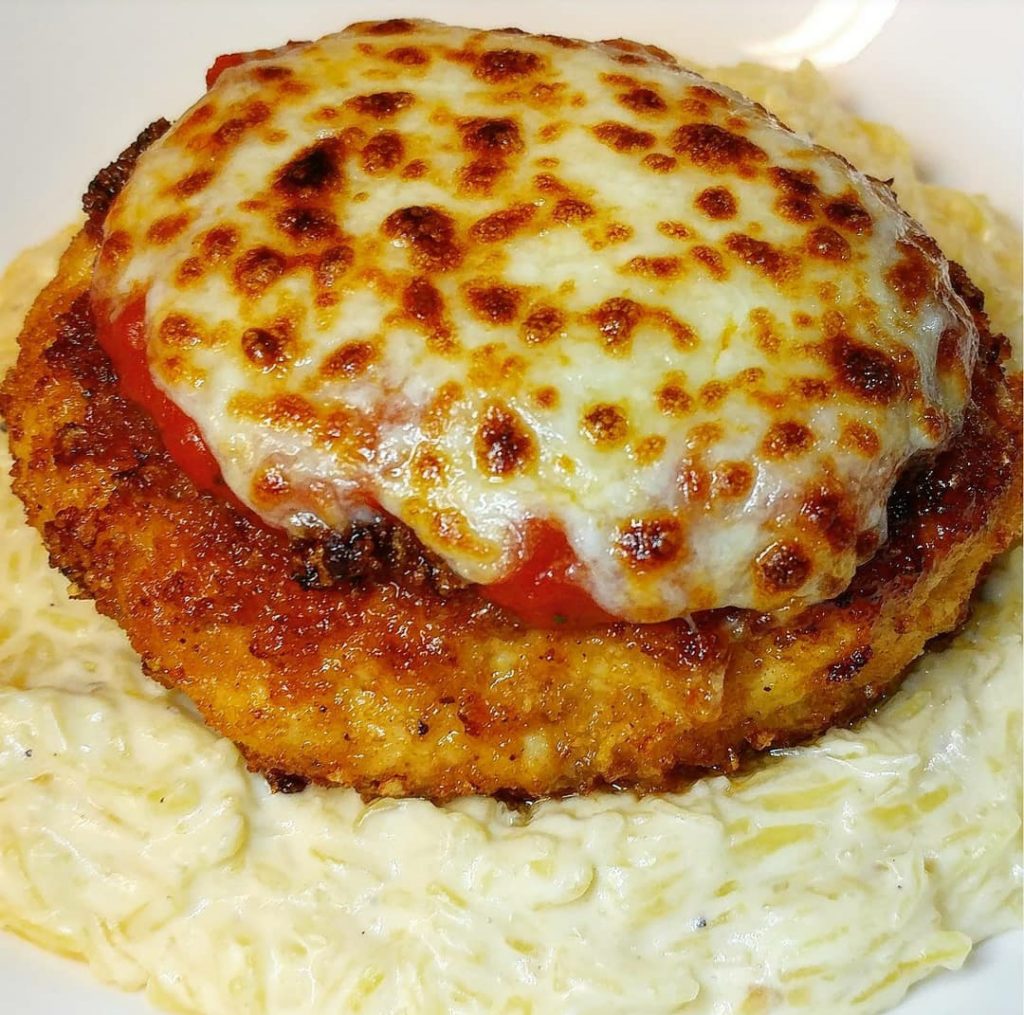 These are also great when coated in buffalo sauce after draining on paper towels!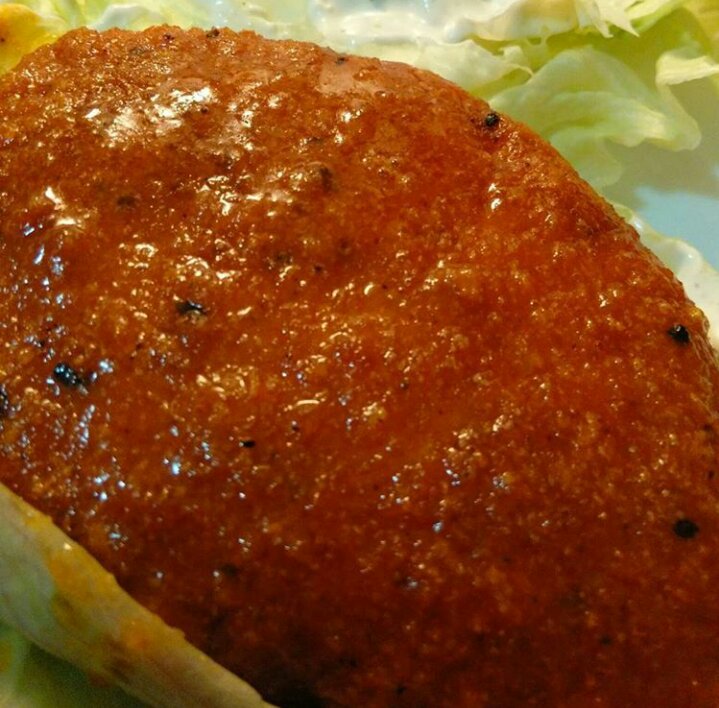 I've also experimented with stuffing the inside of the chicken patties with cheese before breading and frying – it's fantastic!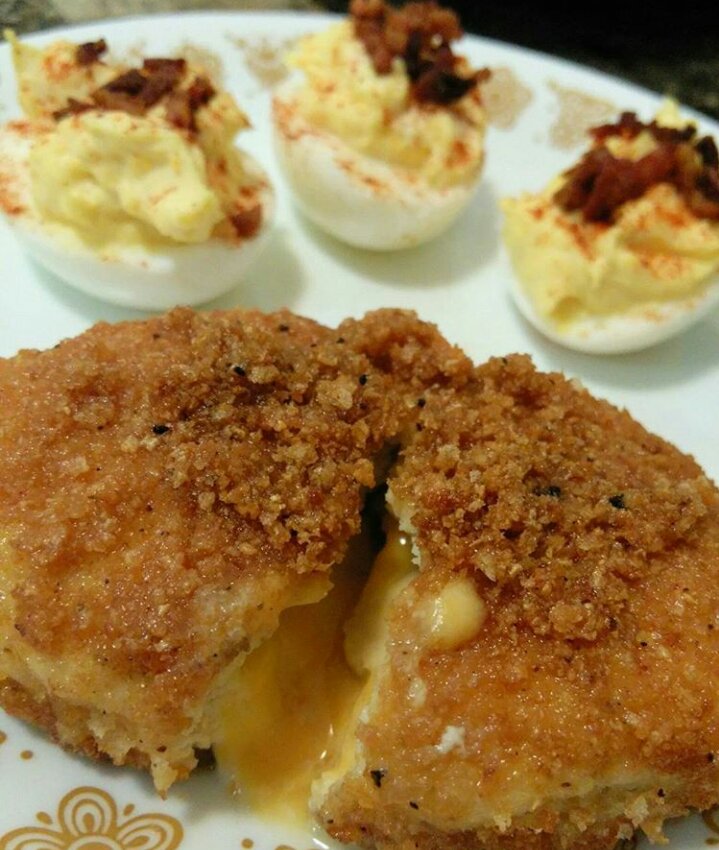 I also love saving about 1/4 of the chicken mixture to make naked nuggets!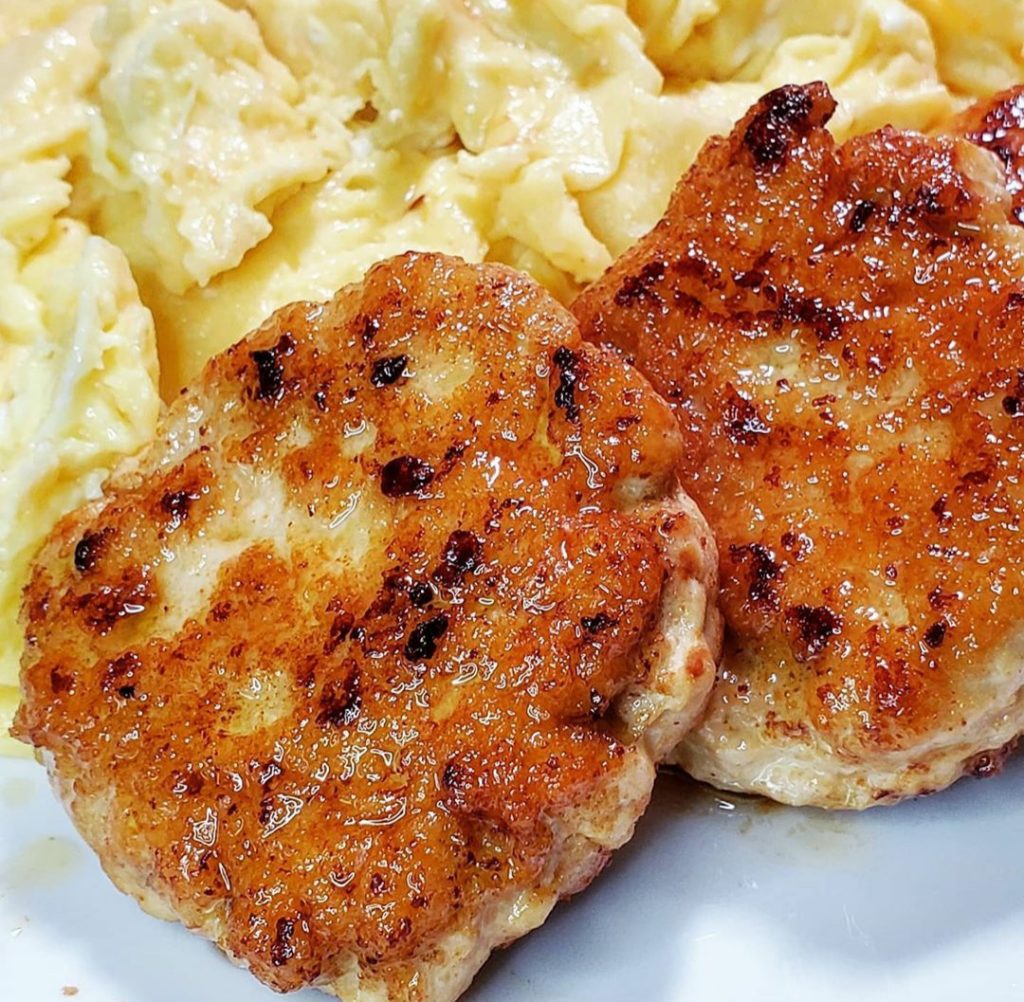 Pro Tip: refrigerating the chicken mixture for a few days makes it even more flavorful!
Naked nuggets are not breaded and they are delicious with breakfast foods (think spicy chicken sausage)
You cook them exactly the same way, you just omit the breading step.
So, I was thinking the other day about how much they remind me of a BK Broiler.
Do you remember those?
I absolutely loved them! I worked at Burger King when I was 16 and I ate A LOT of them, they were so good! So now I can have BK Broilers at home anytime!
I recommend adding a few drops of liquid smoke to the chicken mixture to turn them into true Broilers – it's magical!
I started with BK Broiler Sliders and they were so tiny and fun!
For the buns, I used this microwave bread recipe and the coconut flour really imparted a wonderful flavor that went very well with the liquid smoke in the Broilers.
When I made the buns, I used this container which was perfect bc the sides go straight up. These containers also come in this size which I might try next time. Since I used the smaller one, I was able to make 2 breads from the recipe which I cut into thirds and it worked great. I brushed each side of the buns with oil and toasted briefly in a hot pan.
Then I built my Keto Broiler!
I added mayo, lettuce and tomato.
These were so delicious!
I used 1 tbl of mixture to make these broilers but next time I will use 2 tbl so they completely fill up the bun.
We can't be wasting precious bun space like that again!
I ate these with my absolute favorite thing in the world since I was a kid, Specials!