I gotta say, I really LOVE soup!
It's always so delicious and comforting; brimming with tasty protein, fresh veggies and collagen rich bone broth!
I love making and freezing my own homemade bone broth but when I don't have any on hand, I always grab a box of Kettle & Fire organic bone broth to add that slow simmered richness to all my favorite soup recipes. Not only is it delicious and full of wonderful collagen, it contains 10g of protein per serving and they have several delicious flavors beyond the traditional beef and chicken.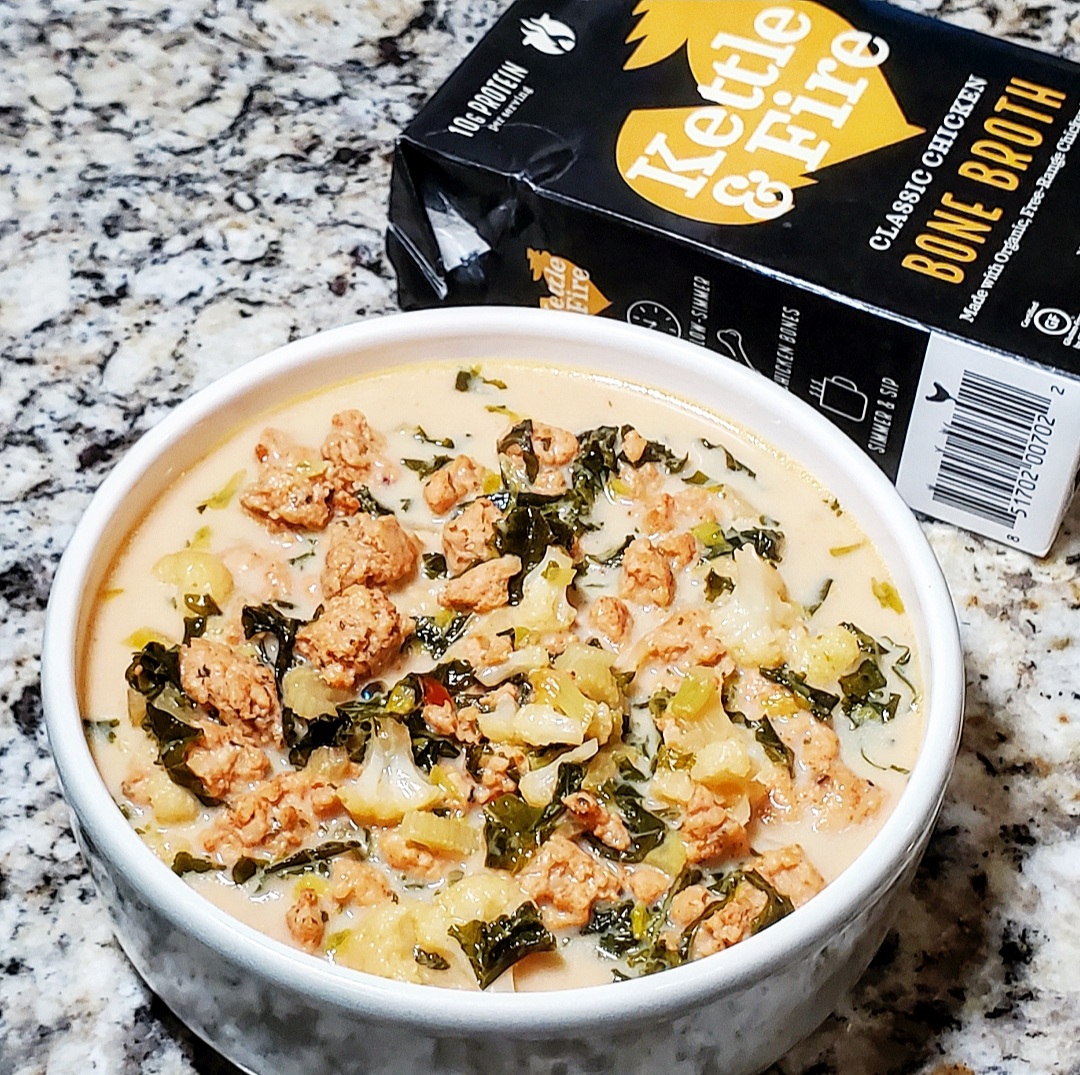 Check their full line out HERE and save 20% off your order with code: OHMYKETO
Zuppa Toscana
16 – 24 ounces bulk Italian sausage (I used Italian chicken sausage)
2 tablespoons unsalted butter
1 tablespoon olive oil
1 bunch kale, stripped and chopped (about 6 ounces)
3-4 stalks inner celery hearts with leaves, small diced
4 cups homemade chicken bone broth or 2 boxes Kettle & Fire Chicken Bone Broth
2 teaspoons tomato chicken bouillon
1/2 large head cauliflower, cut into small florets (about 18 ounces)
1 cup half n half (or heavy cream for a richer soup)
• Brown sausage in a large heavy bottomed pot over medium high heat. Break up large pieces of sausage once cooked thru then remove to a plate and set aside.
• In the same pot, reduce heat to medium and add butter and oil. Add chopped kale, season with a pinch of salt and pepper and stir to combine.
• Once kale is wilted, about 5 minutes, add diced celery hearts and stir. Continue cooking for 3 more minutes stirring occasionally.
• Add chicken bone broth and bouillon along with cooked sausage then stir in cauliflower florets. Bring to a light boil and reduce heat to simmer until cauliflower is tender, about 3 minutes.
• Once cauliflower is fork tender, add half and half and stir to combine. Serve immediately and enjoy!