Oh, how I love a great Caesar salad!
Crisp romaine coated with a thick and tangy dressing complete with a little extra parmesan cheese 🙂
I swore by a certain bottled Caesar dressing for years and years and then suddenly they changed the recipe and I was no longer a fan. Sadly, I just went without Caesar salads for awhile until I discovered it's quite simple to make it homemade and oh boy is it so much better!
Traditionally, Caesar dressing comes together with an emulsion of raw egg yolks and olive oil but who has the time for all that whisking? With a quick shortcut (or maybe a few quick shortcuts) you will have the most delicious homemade Caesar dressing ready in a matter of minutes!
Here's my few tried and true shortcuts:
MAYO – I use mayo as the base since it's already an egg yolk and oil emulsion, it works perfectly!
ANCHOVY PASTE – I prefer to use anchovy paste since it's easier (ahem, less gross haha) and there is no waste. When you buy a tin of anchovy filets, you'll only use 2 and the rest may just end up in the trash. With the paste, you always have it on hand in the fridge and the pureeing is already done for you!
TRUE LEMON – I love true lemon packets, they pack such a punch of lemon flavor! The recipe below uses both lemon juice and lemon zest but you can replace both with 1 packet of true lemon if you'd prefer or don't happen to have a fresh lemon on hand. It is just as wonderful with this quick trade out
FROZEN CRUSHED GARLIC – I get mine at Trader Joe's in the freezer section and it is the best shortcut in my opinion. Just pop out the frozen cubes (each cube is equal to a clove of garlic) and there is no bothering with mincing garlic or getting the smell off your hands! These are also a lot milder than fresh garlic so you get the great flavor without that strong raw garlic taste.
CHEESE – Yes, Parmigiano Reggiano is the BEST option for an amazing Caesar salad but it's not always available and it's quite pricey. I've found that really any type of parmesan (even the green container) or hard cheese will still work great for this recipe.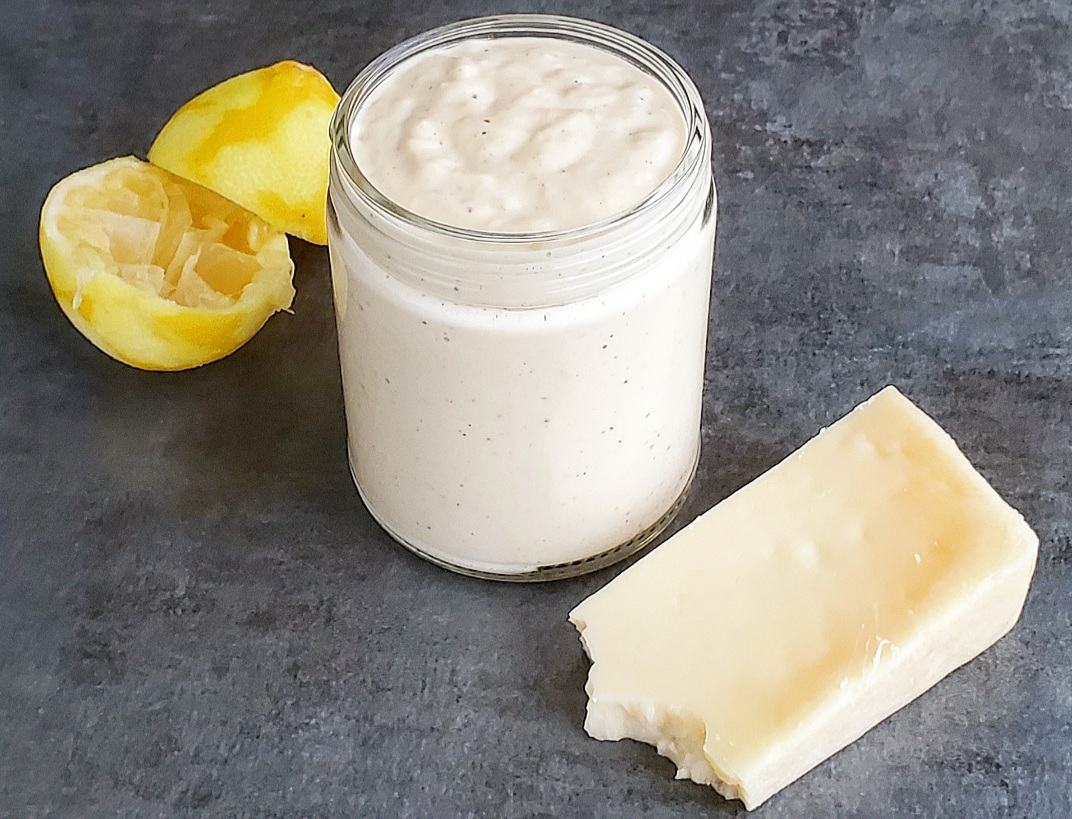 Caesar Dressing
3/4 cup good quality mayonnaise (6oz)
2 teaspoons Worcestershire sauce (10ml)
1 teaspoon Dijon mustard (5g)
1 1/2 inch anchovy paste (2g)
zest of 1 lemon
1 tablespoon lemon juice
2 cloves garlic, minced
1/8 teaspoon sea salt
1/8 teaspoon fresh ground black pepper
1/4 cup parmesan cheese, freshly grated
• Whisk together the first 9 ingredients until smooth then stir in the parmesan cheese
• Cover and refrigerate for at least 30 minutes for flavors to develop
To make the salad:
• Wash, dry and chop 3-4 heads of romaine
• In a large bowl combine chopped romaine and dressing then toss to coat
• Add an additional 1/4 cup of freshly grated parmesan cheese and an extra sprinkle of fresh ground black pepper and toss again to make it extra special and delicious
• Serve immediately and enjoy
I love to top my Caesar salads with a protein for a complete meal!
Steak Caesar Salad using grilled flap meat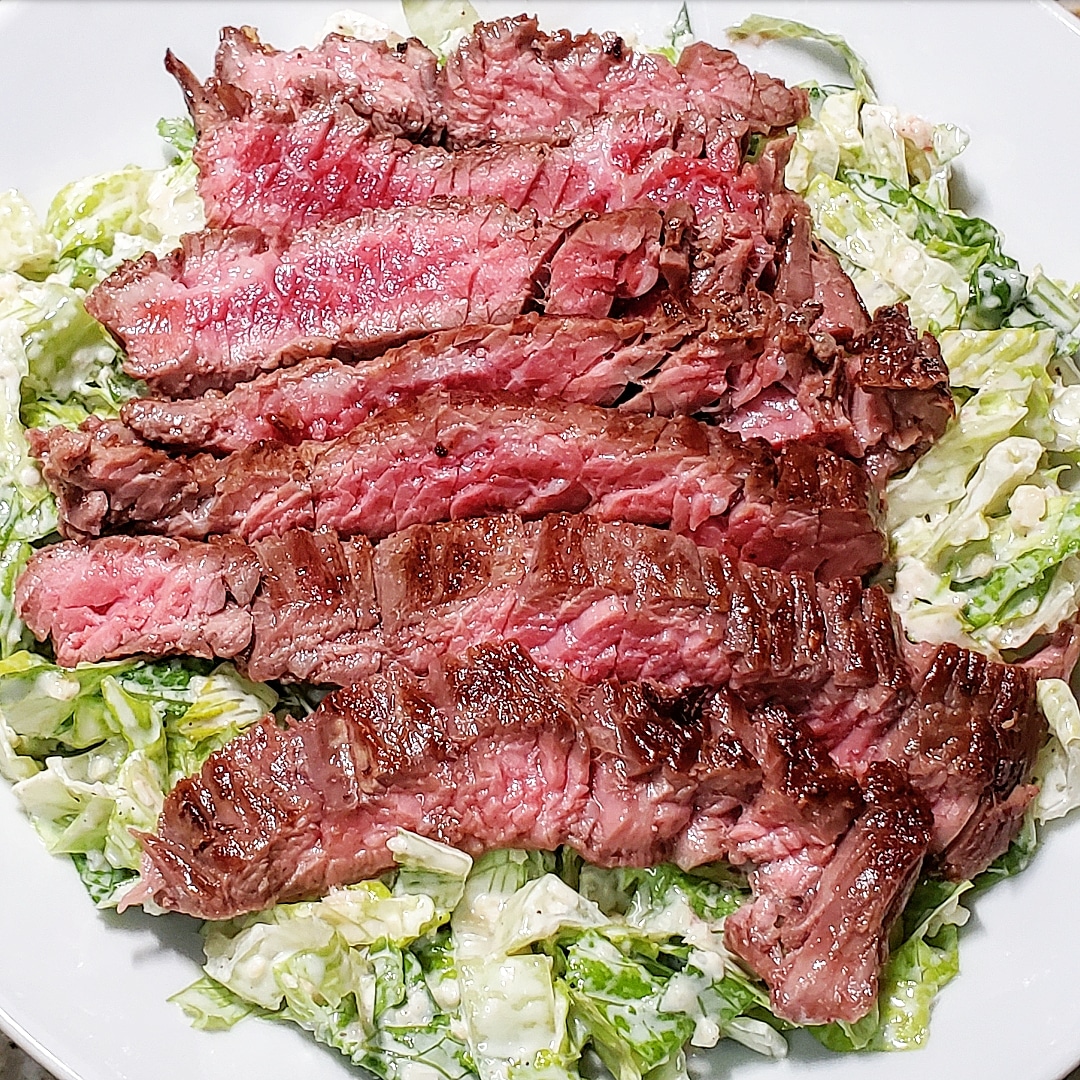 Chicken Caesar Salad using my favorite Restaurant Chicken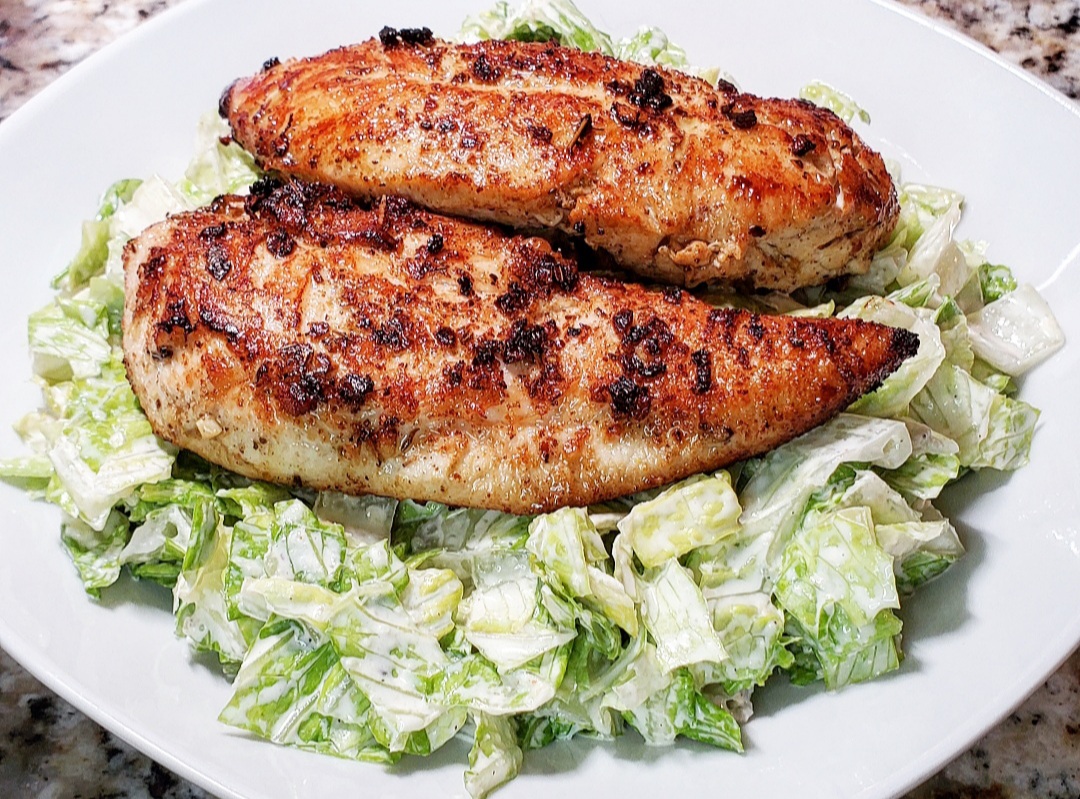 It's absolutely wonderful when topped with my famous Chicken Patty